Hi Love, I'm Anna Marie
I help nuclear families function without the tribe we were promised.
I help committed couples understand and communicate better with each other so they can be the best examples possible of love and understanding for their children.
But my main goal is to help parents learn to hold space for their children…so we can create a new generation of emotionally empowered humans.
Emotions are meant to flow, but as a societal whole, we don't have the tools to hold space for them or let them fully process out.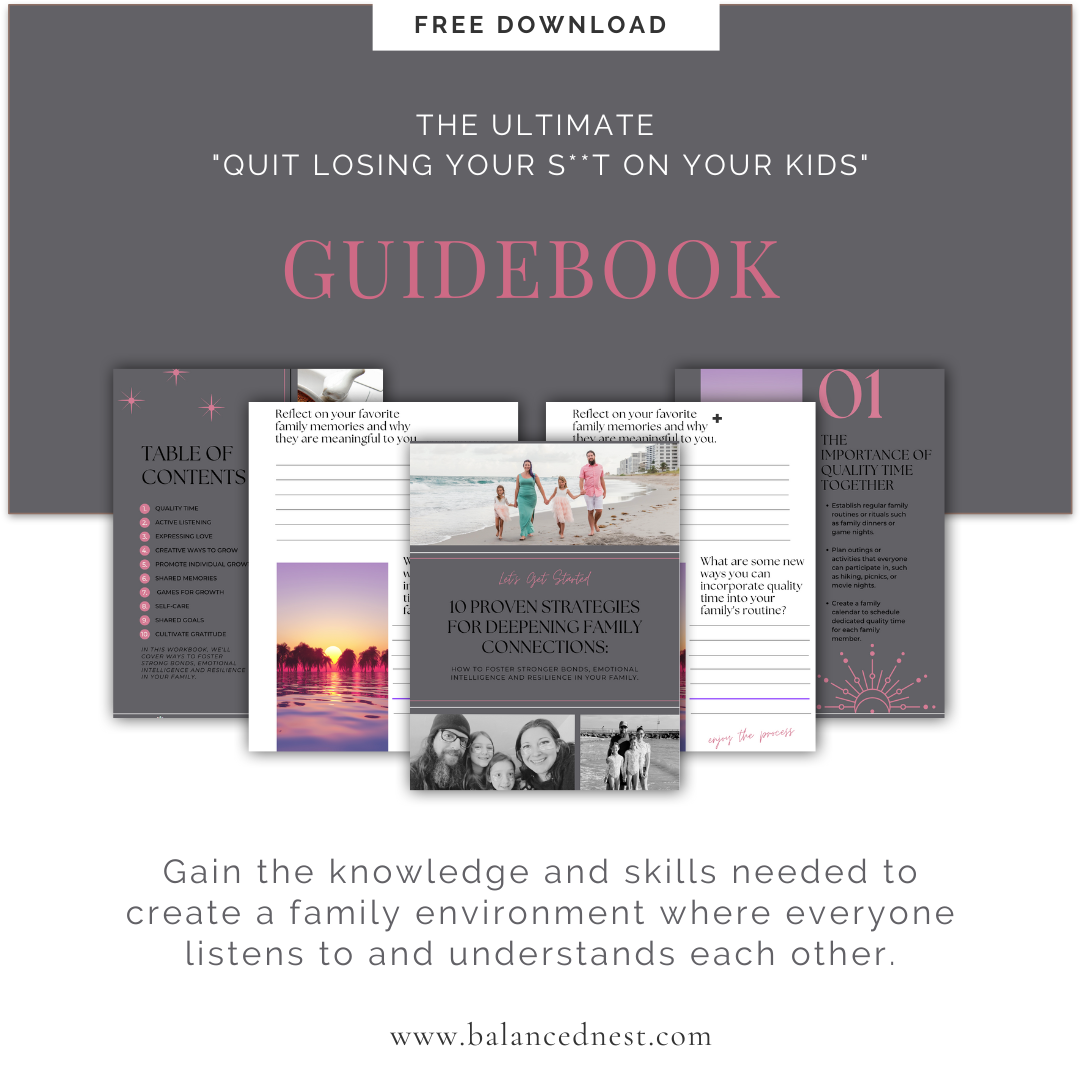 Welcome to The Balanced Nest
The Balanced Nest is a company based on well-being that helps mothers understand their underlying and possibly unknown trauma.  Guiding them through communicating their emotions to curate a response and not a reaction, moms will learn how to live by an emotional and energetic example for their children, creating an emotionally intelligent and healthy generation of kids.
With courses curated from multiple therapeutic modalities, The Balanced Nest helps solidify the brain/body connection by using somatic, grounding, and other techniques.
You will soon be on your way to thriving as a mother and a family.
"Crazy that sometimes it takes someone to point out "no Katie, what do YOU want to do with YOUR time?"  At the end of the day, how can my needs be fulfilled if I don't even take the time to stop and think about what they are, let alone express them to someone else.
This has helped to change not only my relationship with myself, but my entire family has benefited from me taking care of myself."
"Anna Marie guided me to the path of visualizing my emotions. I'm learning to sit with these emotions and for the first time I am really beginning to understand what they need. This process has been ground breaking in my journey of self-discovery. I have been able to create many boundaries which have truly opened my mind and created space for new growth.
I am extremely appreciative of all of the effort and guidance Anna Marie has provided to me in this difficult time in my life."
[About the course and process] "I'd never done anything like it, and did not know what to expect. I was surprised to see all the emotional things come out of it and how I found an awareness of things I need to still heal in me. I was also reminded of how I need to honor and thank my body for how it had protected me."
Becoming Whole
Becoming Whole will teach you to respond easier through grounding, somatic awareness, and boundary exercises. Becoming Whole will help you communicate your needs and wants more effectively.
My goal is to give you the tools to immediately change your reaction time and turn it into a response that is cohesive with your goals and beliefs as a parent, woman, and partner.
*Everyone is welcome. I truly believe everyone will benefit from this course.  You may hear me refer to women and children more often.